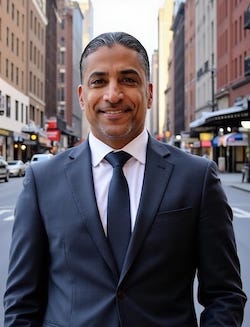 Raj Jutla
Attorney
Founding attorney Raj Jutla has practiced in Illinois since 2001, focusing in real estate law, civil litigation and debt collection. With over 15 years of experience representing banks, mortgage lenders, and credit card companies in mortgage foreclosure litigation and collection actions, Raj has developed an extensive litigation background which allows him to handle both sides of the areas of Real Estate Litigation, Commercial Litigation, Consumer Protection, and Collections for his clients.
Raj regularly represents property owners, real estate investors, and others resolve their real estate disputes. He regularly represents landlords in various leasing and litigation matters and has foreclosed on thousands of liens, as such, Raj uniquely situated to approach every dispute with a level of sophistication and knowledge of real estate law that few other attorneys possess regardless of whether you are the plaintiff or defendant to a lawsuit. Raj's straight-forward approach to practicing law in addition to his extensive courtroom experience have earned him the respect from his peers and colleagues throughout the state.
As a skilled Real Estate Transactional attorney, Raj can help you safeguard your property interests by drafting and negotiating contracts on your behalf whether residential or commercial property and can also assist with mortgage loan documentation; short sales; commercial and residential leases; property development and much more.
Raj's vast experience in all areas Real Estate Law allows him to provide clients with the highest quality of service in a professional, convenient and efficient manner. He takes a hands-on approach for each of his clients to provide them the best service and legal experience possible. He is truly dedicated to providing personalized, effective representation to his clients. He focuses on achieving the best outcome for the client through negotiations or, when necessary, in court.
Raj earned his Bachelor's degree in 1999 from Illinois State University and his Juris Doctor from Western Michigan University Cooley Law School in 2003. He is a member of the Northwest Suburban Bar Association, Lake County Bar Association, and the Illinois State Bar Association. Raj is actively involved in the Northwest Suburban Bar Association where he serves on the Board of Governors and as Co-Chair of the Civil Litigation Committee. Raj has also been actively involved with the Lake County Bar Association where he regularly volunteered his time at the homeowner mortgage foreclosure help desk. Raj has been recognized in Lake County for his dedication and services provided to families facing foreclosures.
Raj is currently co-host of a weekly webinar series through the Northwestern Suburban Bar Association which provides attorneys and other professionals with an opportunity to stay apprised of legal trends on a weekly basis.
Raj is also the proud recipient of the May 2021 Abraham Lincoln Award of Excellence in Law from the Northwest Suburban Bar Association.
Education
J.D., Western Michigan University Thomas M. Cooley Law School, 2003
B.A., Illinois State University, 1999
Professional & Bar Association Memberships
Northwest Suburban Bar Association
Co-Chair of the Civil Litigation Committee
Lake County Bar Association
Illinois State Bar Association
Illinois Real Estate Lawyers Association
Illinois Creditors Bar Association
Awards
Abraham Lincon Award of Excellence in Law, 2021